Email Analyzer: The Free Comprehensive Mail Tester
View the technical details of your email to diagnose potential issues: SPF, DKIM, DMARC, blacklists, and more
To see results, simply send an email to: [email protected]

and results will populate below as soon as your email arrives.
Copied to clipboard!
When Should You Analyze an Email Using This Free Mail Tester?
Here are some scenarios when you might want to analyze an email's technical journey...
You're noticing lower deliverability rates and wonder if there's an authentication, blacklist, or other technical issue contributing to the problem.
You signed up for a new email service provider or SMTP service (like SendGrid) and want to see if your shared IP is on any blacklists.
You want to check if your domain is on any blacklists.
You want to check your domain's SPF records.
You want to see what domain is being used for DKIM signing on your emails.
You want the details of your DMARC records.
You're curious about the path your emails are taking when you hit the send button (or hit the GMass button to send).
Helpful Links to Fix Email Technical Problems
Spotted a problem? Here are some resources to help you out:
Bonus: Email Analyzer Is Built Into GMass
Are you a GMass user? You can analyze any email before you send from the GMass settings box.
GMass will send a test of your campaign through this mail tester tool so you can spot any potential technical issues in advance (and take care of them).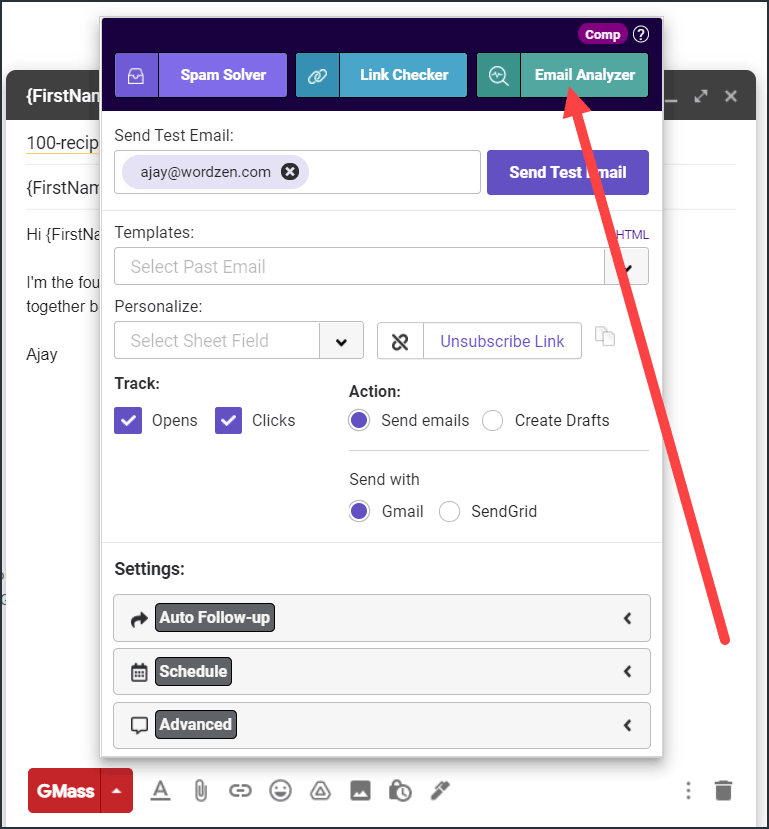 Not a GMass user? It's the only email provider that brings cold email, email marketing, and mail merge into Gmail. (Find out more about what makes GMass different.)
You can get started for free in a matter of minutes — no credit card required — by downloading the Chrome extension.