The easy, powerful way to reach and engage your supporters
Send personalized mass emails and automated follow-ups from right inside Gmail, no complex software required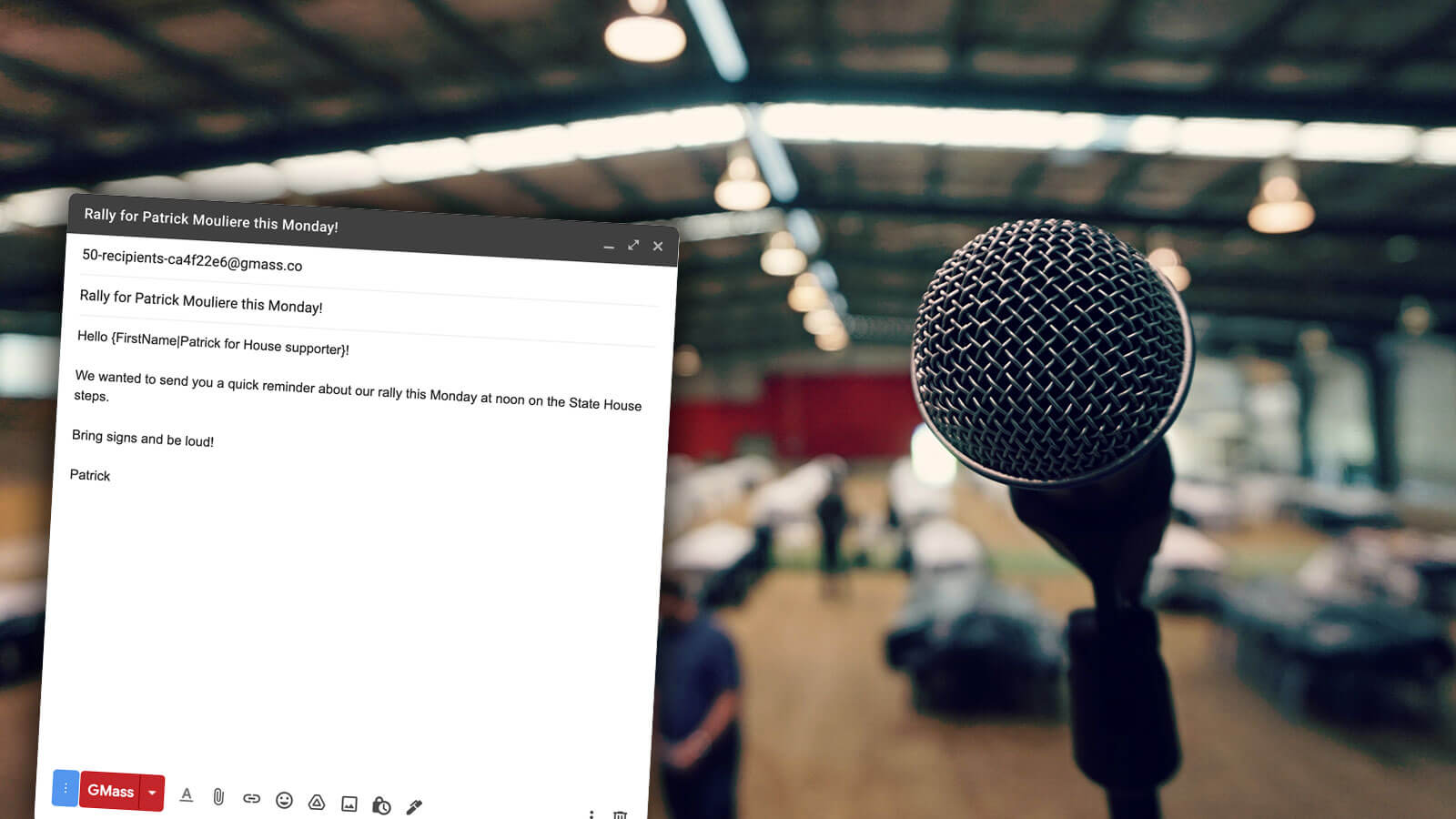 Email is a crucial element of any modern political campaign — from raising money to communicating with supporters about events to getting people out to vote.
But… many of the email options out there for political campaigns are costly and require learning complex software.
Whether you're using Mailchimp, Campaign Monitor, or another solution… want to send an email just to a certain segment of supporters and automatically follow up if they don't respond? Settle in for a long night of figuring that out.
That's why we created GMass. We set out to make a simple, affordable option for sending political emails.
With GMass, you can send a personalized, individual message to every supporter on your list from right inside your Gmail (or Google Workspace) account.
If you know how to send an email, you'll know how to send a mass email.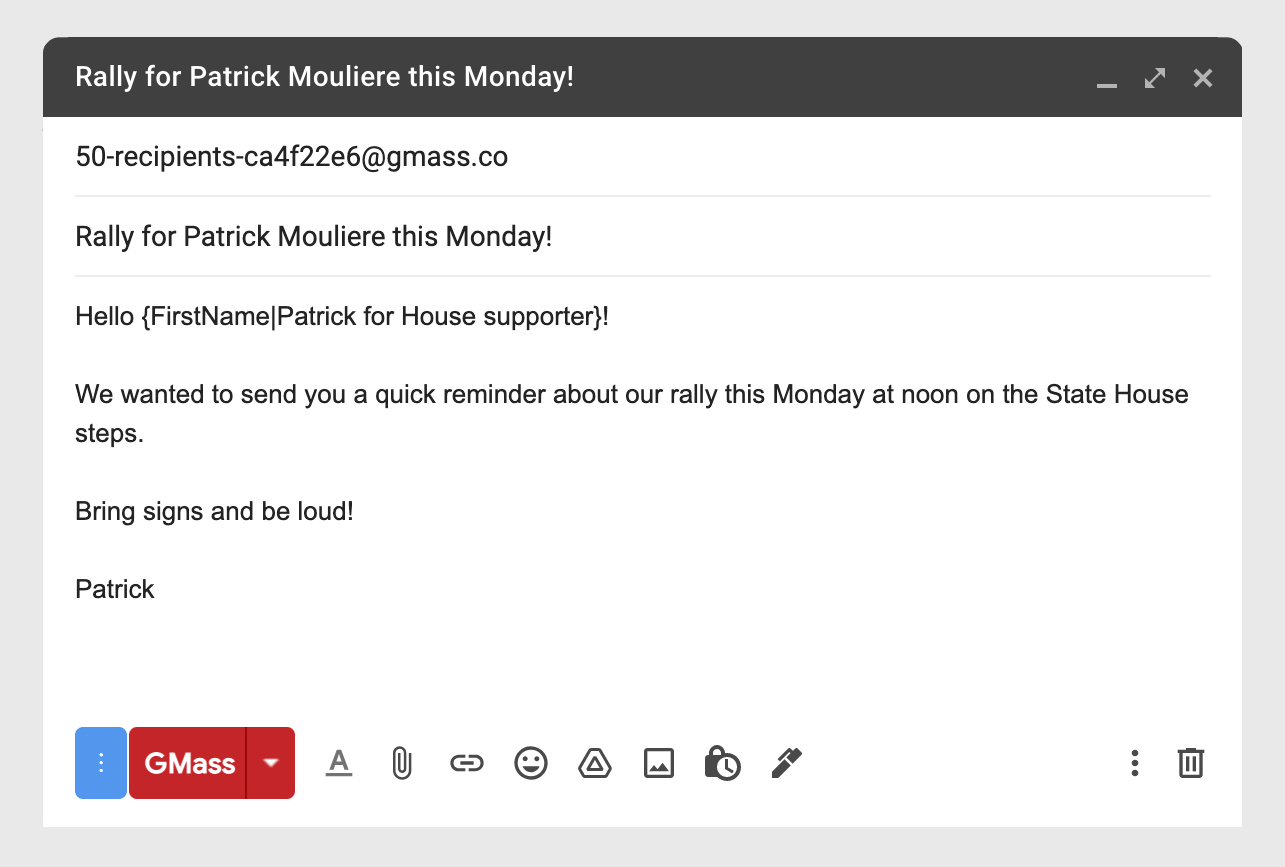 Send individual mass emails at scale right inside your Gmail account
300,000+ users, 6,600+ reviews, and (nearly) a ⭐⭐⭐⭐⭐ average in the Chrome Web Store
"GMass was a snap to figure out and set up and use! Sent out my first mass mailing in less than an hour – what used to take a whole day." – Nick H.
"This extension was perfect for mail-merge novices like me! I was nervous that it wasn't going to work (it sounded too good to be true), but lo and behold, it worked seamlessly. There are great prompts that check/correct things along the way." – Amelia V.
"Great product and amazing support. Easy to use and perfect for our campaigns." – Yasser K.
Send better political emails in just a few clicks
Get started fast


Go from installation to sending your first round of emails in minutes. You'll be raising money faster than it takes to brew a pot of coffee.

No new software to learn


Know how to send an email in Gmail? Then you know how to send a mass email with GMass.

Save money
GMass has affordable pricing for a single campaign manager — or an entire team.
Personalize each message


Include each supporter's name (and any other details you want) in your emails.

Track your results


Track opens, clicks, replies and unsubscribes. Learn how your supporters are responding to your emails.

Avoid the spam folder
GMass's advanced email distribution system helps your mass emails land in the inbox, not the spam folder.
A/B test your messages
Easily A/B test different subject lines, message copy, or CTAs to see which yields the strongest results.
Send automatic follow-ups


For example: Send a follow-up three days later to supporters who opened an email but click to donate.

Schedule emails for later
Set up an email campaign at any time and date in the future.
Build a list from your Gmail


GMass helps you mine prospects from inside your Gmail — and quickly build new lists for campaigns.

Create follow-up campaigns


Create new campaigns based on behavior; for instance, send to all who didn't open.

Bust through sending limits
GMass allows you to break through Gmail's sending limits to send virtually unlimited emails.
Try GMass for free — no credit card required
Boost engagement and keep your supporters active and excited
Political candidates around the world are using GMass to keep their supporters informed, engaged and active
Fundraising emails. Send thousands (or millions) of personalized fundraising emails in a fraction of the time you expect.
Newsletters. Inform your supporters about campaign news, appearances, rallies and other events.
Important announcements. Voting time? Need volunteers? Big campaign happenings? Get the word out to your supporters fast and reliably.
Welcome emails.Send a series of emails to new subscribers to introduce the candidate, share important platform positions and ask for donations. Ensure they feel seen, heard and welcomed with open arms.
Press releases.

Keep the media informed with personalized press releases and news bulletins.
---
Game changing political emails with no learning curve
To show you just how soon you'll be sending your first email campaign with GMass, we put together this guide… then we realized it's only five steps long.
Step 1: Install GMass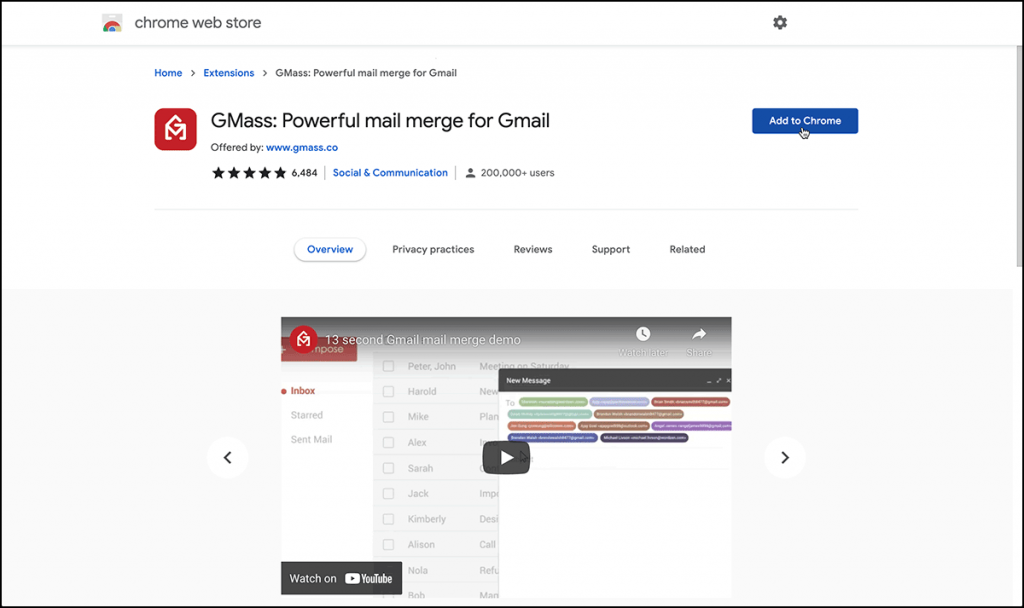 Install GMass at the Google Chrome web store and connect it to your Gmail account with a few clicks.
Step 2: Import your Google Sheet of supporters
Click one button in Gmail to import your Google Sheet of supporters.
Step 3: Write your email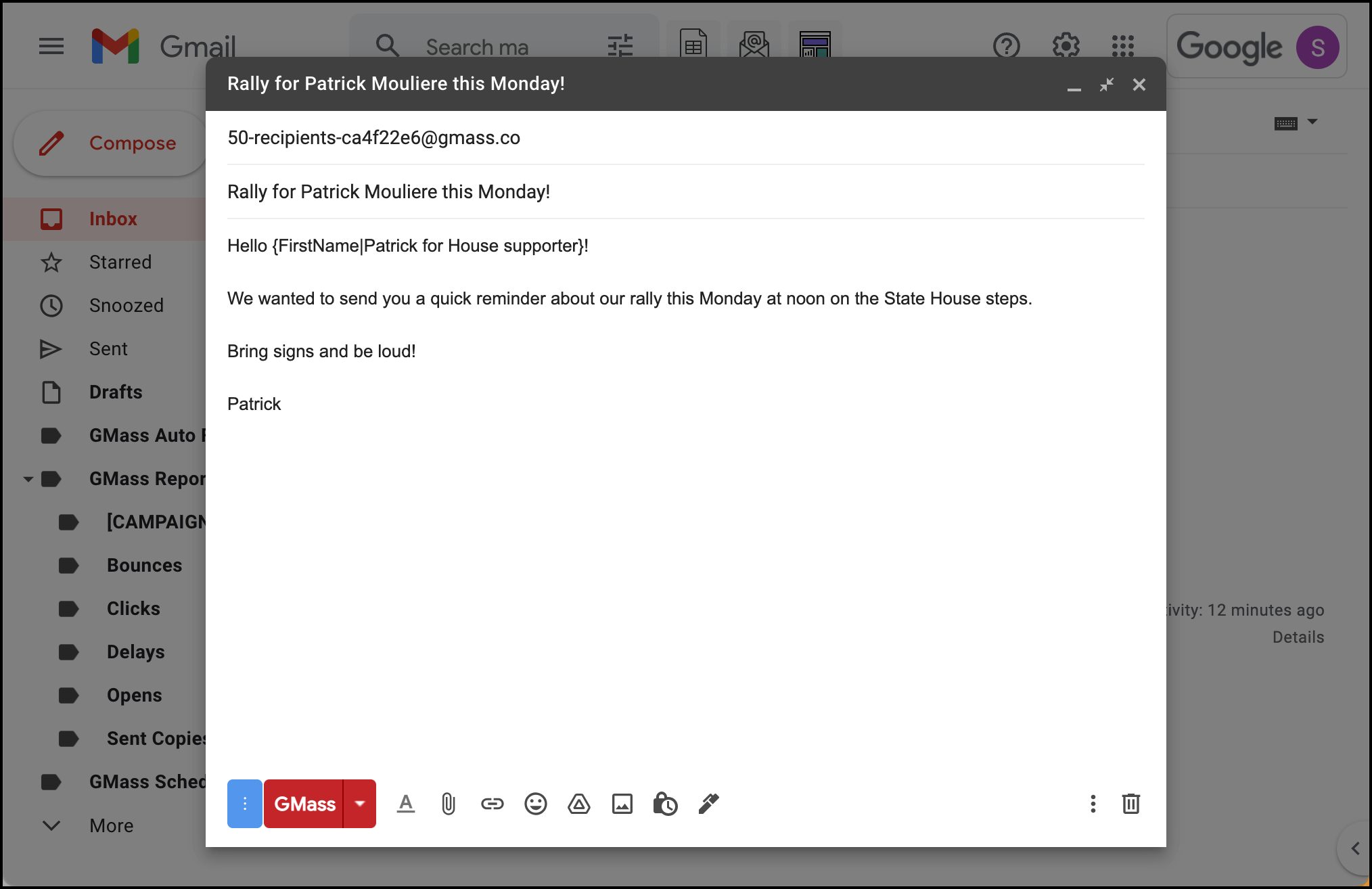 Write your most enticing fundraising email and use the GMass pop-up tool to add personalization fields.
Step 4: Select any advanced features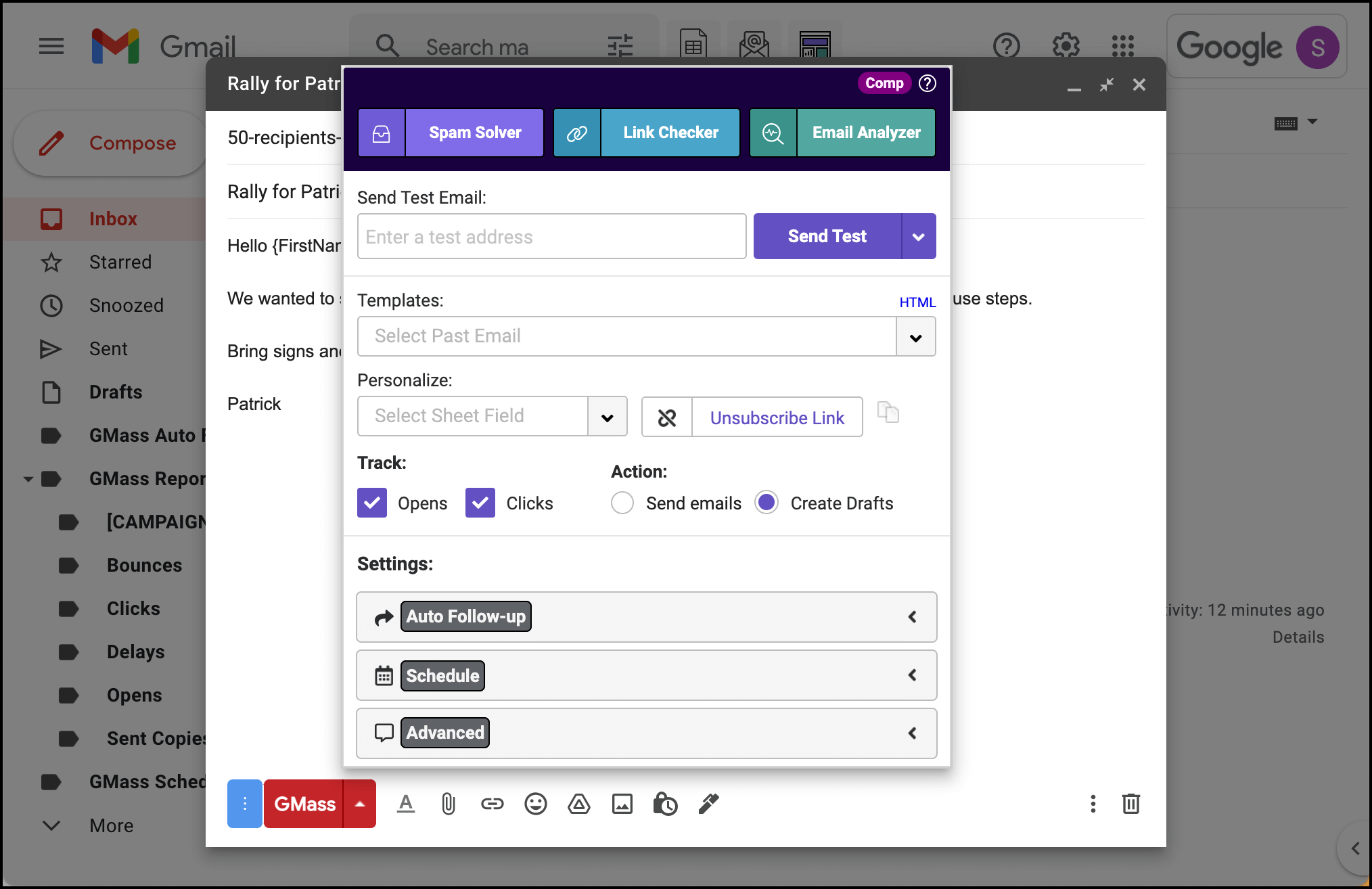 Set up automated follow ups, schedule your email for the future, and more.
Step 5: Click the GMass button to send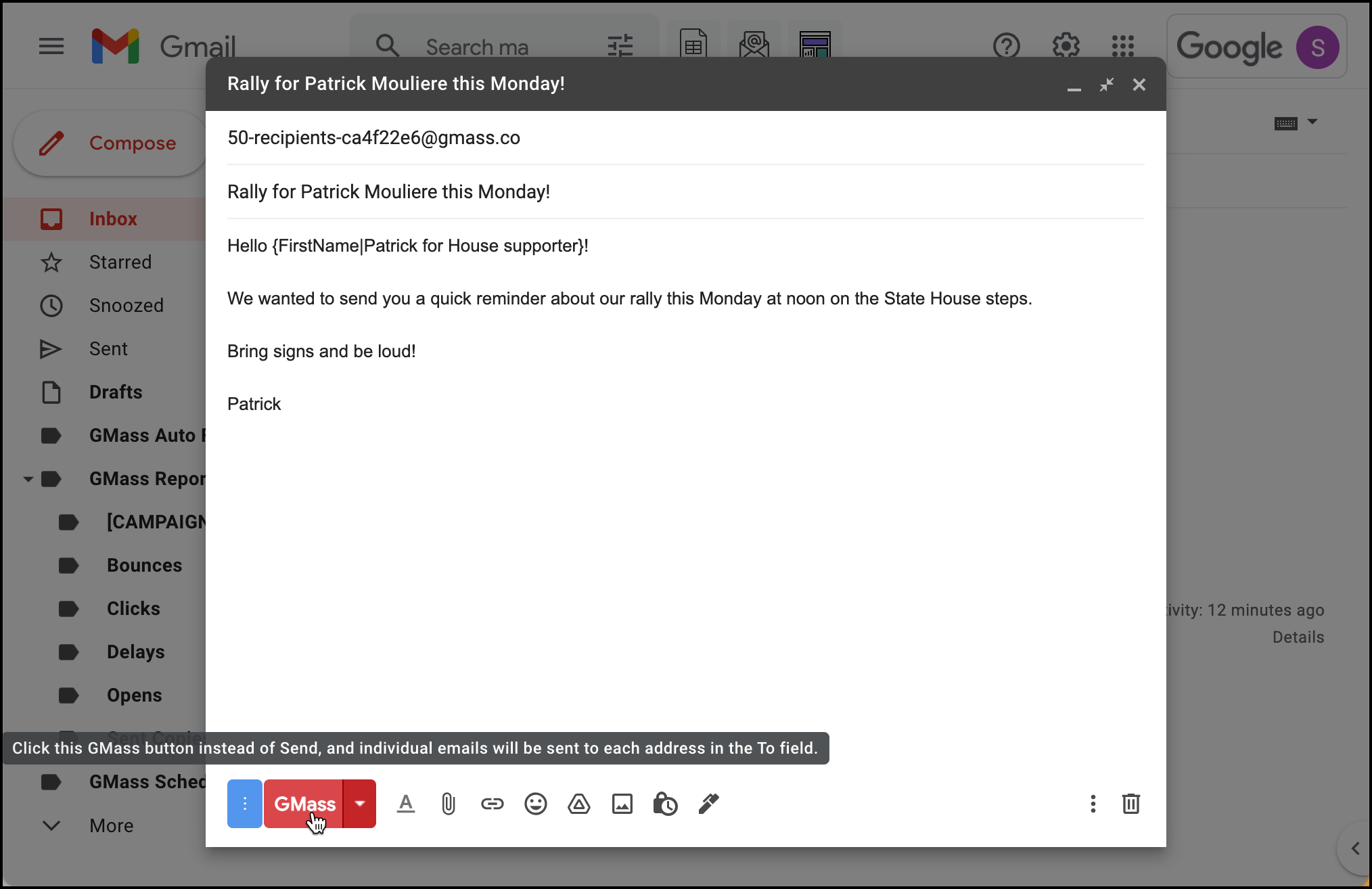 Click the GMass button and your email will send now (or at a scheduled time). Now you can track your results right there in Gmail as well.
Well done. You just sent your first campaign and it probably took less than five minutes. Any candidate that efficient is definitely the right person to cut through all the political red tape.
---
Join the thousands of other politicians using GMass (along with 300k other salespeople, businesses, nonprofits, schools and more)
Try it for free, get up and running in minutes, and start engaging your supporters today!